Milk and Sugar?
What secrets does a seemingly innocent porcelain teapot hold, and how did it lead to a scandalous and deadly affair in 19th century Paris?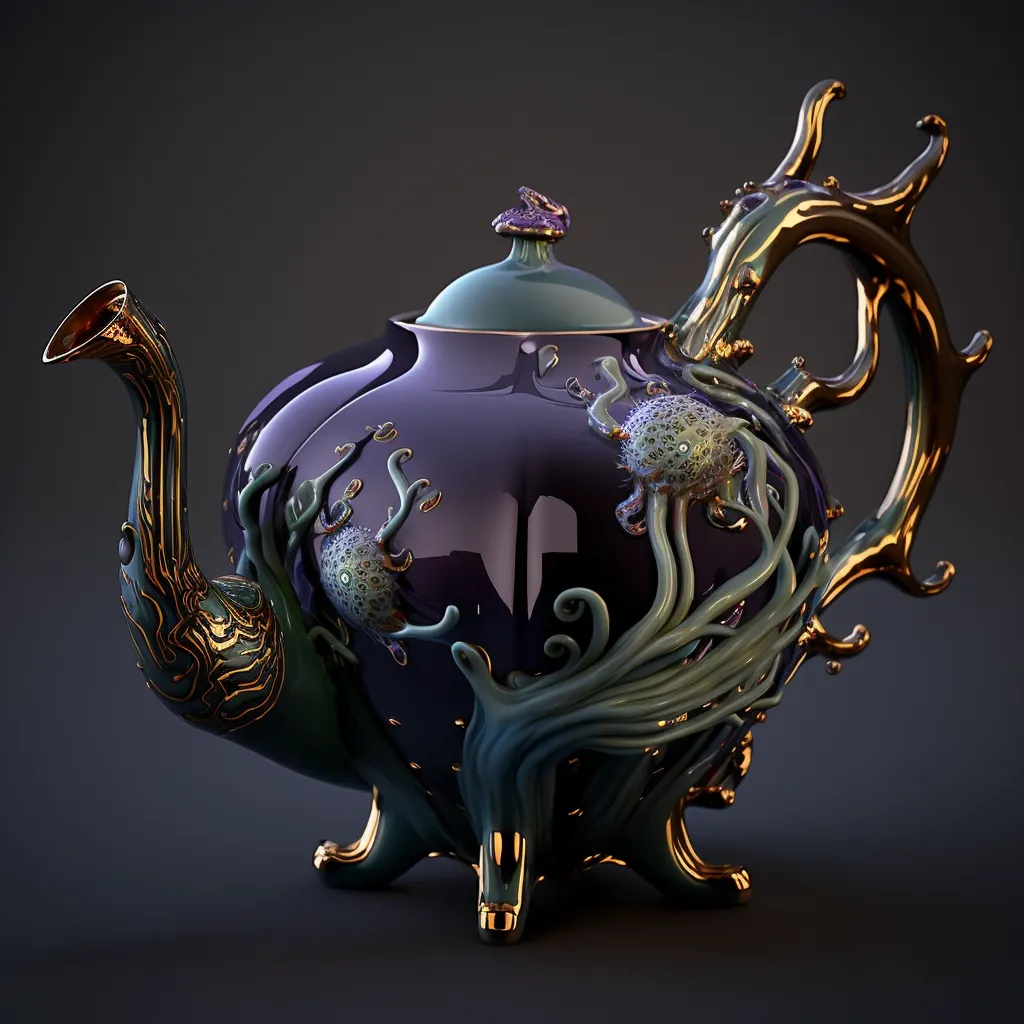 Clovis Corbyn is still considered the undisputed enfant terrible of the design world. His career was short, but his singular mind gave birth to several masterpieces that would inspire future artists, not only in design, but also in many adjacent fields.
This unusual teapot—the only one of its kind—is a fantastic representation of the artist's philosophy and body of work. Corbyn always refused to design the same thing twice. He despised mass production, an opinion that he shared with the British Arts & Crafts movement of the late 1800s.
However, this might be the only characteristic that ties him to an artistic collective, as his style persisted in being too erratic and peculiar to place him in a particular group. Clovis Corbyn found inspiration in the natural world—especially botany—for his luxurious and decadent designs. His pieces were elegant, classic. At the same time, they always conveyed a cryptic essence, which made them unpopular with the public at the time. His contemporaries could stomach modernity but found his blend of traditional beauty and otherworldliness too jarring.  
Corbyn began his career as an apprentice in the retailer—and flagship of the Arts & Crafts movement—Morris & Co. Due to his tempestuous personality and his unwillingness to conform to any stylistic standards, this apprenticeship was short-lived, but his wild designs impressed Austrian philanthropist and art collector Matthias von Eisenstadt.
Von Eisenstadt had caught a whiff of a new artistic aesthetic in the air. In 1894, he insisted Corbyn moved to Paris with him as a patron and mentor. Corbyn accepted. With the collector's help, his pieces soon reached the right experts in objects d'art, who embraced his bold designs as a symbol of things to come. One year later, he exhibited the Purple Teapot plus two other artifacts at Siegfried Bing's Maison de l'Art Nouveau.
Matthias von Eisenstadt bought Corbyn's teapot and gifted it to his wife, Francesca, when she moved to Paris from Vienna. Francesca von Eisenstadt shared her husband's taste for the fine arts, but not his fondness for the young designer, especially after hearing the rumors that tied Matthias to his protégé on a more intimate level. The mounting animosity between Fräulein von Eisenstadt and Clovis Corbyn soon became the favorite topic of conversation in every Parisian salon, as did the stormy—and often public—arguments between the designer and Matthias.
Corbyn gathered tremendous success after the Maison de l'Art Nouveau. But as it often happens with shooting stars, his light faded fast. In 1897, Corbyn was found dead in his workshop. He'd just turned 23. The cause of his death was laudanum overdose, which surprised many among his close circle. Francesca von Eisenstadt was quick to share her suspicions of the artist's drug addiction with the authorities. Her opinion was seconded by her husband, and the case, closed.
Unfortunately, that wouldn't be the last tragedy that took place around the figure of Clovis Corbyn. Following his passing, the von Eisenstadt organized a wake to honor their friend, an event that would earn its place in history as Le Goûter Effrayant (The Dreadful Tea Party).
As a way to celebrate Corbyn's legacy, tea was served using the famous Purple Teapot. None of the guests could have ever predicted the grim spectacle that followed. Soon after the wake began, the hosts complained of a burning sensation in their mouth and throat, followed by excruciating stomach cramps, nausea, and vomiting. Their pulse quickened, but lost strength. They trembled and breathed with difficulty. Finally, they fell into a confused stupor. Two hours later, before they could receive medical attention, they died.
Following the symptoms, the coroner diagnosed death by poisoning, which was corroborated after a forensic toxicologist found traces of Aconite in both victim's stomachs. Nevertheless, the authorities failed to find any hint of the deadly plant in the food or drink served during Corbyn's wake, nor in the cutlery, cups, glasses, or the teapot itself. Furthermore, no other guest showed symptoms of Aconite poisoning, even when everybody claimed to have eaten and drank the same things.
Indigo Ravensfield holds the biggest collection of Clovis Corbyn's objects in the world. Some of them, including the Purple Teapot, are now part of our permanent collection.
The Purple Teapot is an unique object that transcends the physical: it's raw emotion encased in porcelain. Its bond to love and hate, life and death, gives it an aura of tragedy and danger that adds to its uncanny beauty.

-Indigo Ravensfield